Customer Reviews
10/25/2019
Brandi .
United States
My review for No Cut up down
I fell in love with these leggings when i was living in Korea. I was so bummed when I left and no longer could buy them, but I'm so happy they're now shipping to America! I am petite and have issues with leggings being too long. These are perfect for me. The material is thick and strong. They hold everything in and feel slimming. The leggings will fit SNUG if you get your size. I personally like them, but you may want to size up one or even two sizes. I usually wear a 2 but I ordered a 4 and wondered if I should have gotten a 6. The snug fit did grow on me, and they last well during all kinds of workouts. I ordered four pairs in different colors. They're my favorite!
10/30/2019
Mulawearusa.com
Thank you Brandi for great feedbacks !!!
09/07/2019
Young L.
United States
I love the color, I
I love the color, I bought the light blue color so I was a bit worried that I might look too fat in such a bright color. However, the color looks perfect. Also, the fit was good too. Not too long, not too short, just right. I would recommend to anyone who wants to give it a try.
09/10/2019
Mulawearusa.com
Young, Thank you very much for your review We are so happy the fit & color of our Up Down Crop 21 are perfect for you!
Love the color, Waist a little tighter
My first leggings from mulawear! For those who are wondering abt your size, I got size 2!(my weight and height are 101lbs and 5'15") 1) Color I chose the grey color and I love it. Not too dark or not too light. And you can match any color for your tops 2) Length The main prob for buying leggings in general for me is the length. But I like this crop length a lot! 3) Size choice I read other reviews before order, but still wasnt sure cuz the size measurement seems strange to me... I tried to measure what I already got and compare but It was confusing. Anyway what I got is 2 and kind of tight... esp waist part. This part is rolled down every time I bend forward or just sit down. I think I shouldve got 4 instead.. maybe next time. It would be great if you post additional pic of how the lengths are measured from where to where( A. Waist/ B. hips....etc.).
08/30/2019
Mulawearusa.com
Ann, thank you for leaving a great review! We appreciate your detailed review with pictures :) We have measurement chart for every product on each product page, and also a sizing guide for tops & bottom on "Click here to find your perfect size" each product page or https://mulawearusa.com/pages/sizing , so that our customers can find the perfect size :)
Perfect for yoga
I am very satisfied with my purchases. They are perfect for yoga and are the only high rise leggings I can wear without feeling too compressed. Crop length is perfect for summer. Two colors I got (olive drap and skin bibi) are unique, which I can't get anywhere else. I wish more colors are available in the crop length.
Good!
I am very satisfied with my purchase. I was a little confused with what size to order but based on the other reviews, I ordered size 4. I'm 5'5" and 128lbs and usually wear size 2 or 4 pants. It was a little tighter than expected but was comfortable enough when worn. It is squat-proof. I suggest sizing up if you prefer a looser fit.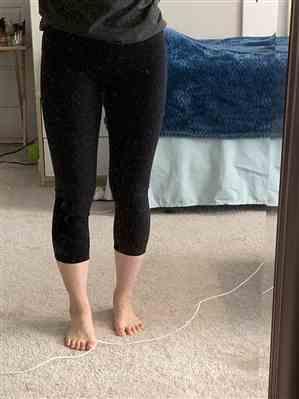 07/24/2019
Mulawearusa.com
Hi, Kim. Thank you very much for purchasing Mulawear USA. It really means a lot to us You've been selected as a best review nominee and 200 points were rewarded to your account. Thanks again for being a Mulawear USA customer!
---