Customer Reviews
10/30/2019
Soraya A.
United States
Great pair of workout leggings!
Just received it and when I took it out from the bag, I wasn't so sure if I could fit it but it stretches really well, easy to slip it on, really good material (it can even hide my tummy!). I say it is true to size. Love it and would definitely buy another one!
My Absolute Favourite
I purchased a rosy brown one and a dark green one and I love them so. so. much. 1. Size & fitting: I am 5'1" and 140 lbs and the size 6 fits perfectly. (I knew my size because I already own 3 pairs of Mula leggings that I bought in Korea) The seam around the waist is slightly dipped at the back so it really compliments my backside. and NO CAMEL TOE!! The 24" inseam is perfectly full-length if you are a short lady like me. 2. Colour: They are slightly darker than the photos which I love. The colour blocks(?) at the product info section are quite accurate I would say. I was super self-conscious to try lighter coloured leggings and wasn't sure about the rosy brown. They DO kinda accentuate my cellulite but I don't care and I wear them almost every day anyway. That's how much I love these leggings! ;D I would still love if there were more classic/general darker colours like deeper wine/true navy etc. 3. Fabric: They are soft and stretchy but not super stretchy(in a good way) and have a matte finish. No shiny polyester-ey feeling to it. One strange thing I noticed is that no matter how sweaty I get (and I do sweat profusely during the workout) I don't get sweat marks, but when I spill water on them, it's super visible..? They are Lycra blended so they do dry quickly tho. I tried many sport/yoga wear brands and I always come back to my trusted Mulawear!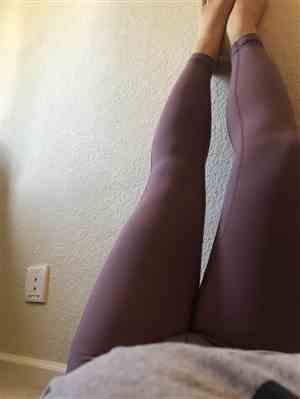 06/21/2019
Mulawearusa.com
Hi, J. Thank you very much for purchasing Mulawear USA. It really means a lot to us You've been selected as a best review nominee and 200 points were rewarded to your account. Thanks again for being a Mulawear USA customer!
comfortable and good for all
At first, I was sort of confused about the sizes. So I read all reviews and contacted the customer care for sizes. On the size chart, waist for large bottom is 26. What!!! I thought these pants for only skinny people. I'm wearing normally size 6, 27 or(and) M size from other brands. Once I checked the size with the customer care, I ordered size 6. I'm 5"3 and muscular body, esp. bottom, not skinny at all. I ordered couple of leggings of size 6. As seeing the leggings, I thought if they could fit on me, wondering if I could squeeze my legs inside. Oh well, it turned out very nice. I feel leggings covered my legs. Even though I do have pretty thick legs, I don't feel that tight or uncomfortable. One thing is, since I don't have skinny flat tummy, when I am sitting or bending, waistline get rolled over. I prefer waistline should be somewhat tighter to hold it. Still, I like the materials and softness, I ended up ordering more. I'm writing the review because there are people like who want to know how these leggings actually fit for the people like me. Hope this review helps.
05/20/2019
Ji W.
United States
Great yoga pants!
I just started yoga classes and needed cute yoga wear. Bought the mauve colored one and it fits like a glove. I usually wear size 26-27 jeans or 2-4 pants depending on the brand. Size 4 fit me well. Def going to purchase more!
Found perfect leggings
True Size and perfect fit! Love this! very soft and comfortable! There is no discomfort any interrupt in the waist. Suitable length and thickness. Can't wait to try out other pieces!
---